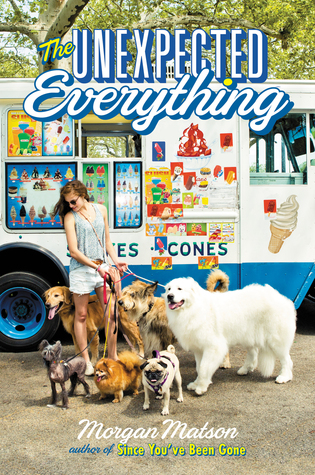 Andie had it all planned out. When you are a politician's daughter who's pretty much raised yourself, you learn everything can be planned or spun, or both. Especially your future. Important internship? Check. Amazing friends? Check. Guys? Check (as long as we're talking no more than three weeks).

But that was before the scandal. Before having to be in the same house with her dad. Before walking an insane number of dogs. That was before Clark and those few months that might change her whole life. Because here's the thing—if everything's planned out, you can never find the unexpected. And where's the fun in that?
REVIEW
The Unexpected Everything is the perfect summer romance with a cute love story and a dog-walking job.
I didn't read any of the Morgan Matson books before this and truly speaking, I wasn't expecting this to be a good read, but well, life's full of surprises. The story follows Andie, a girl who always has plans set for herself. Right from a pre-med internship to her maximum three-weeks of being in a relationship schedule, she has it all sorted. But unexpected things are the essence of living, especially when a love story is about to be blossomed, so her ideas and intentions come crumbling down when her internship is cancelled and she takes up a dog-walking job for the summer. 

The plot is well outlined with enough crisis to get the ball rolling and it has the strong peaks at all the right places. However, there were some things that could've been well avoided and were evidently only included to make Andie's holidays more interesting. Most contemporary novels are shorter than this (I've absolutely no problem with contemporary projects being longer, just stating a fact) but The Unexpected Everything could've easily been cut down and still hold the quintessence of the story. This in particular made me skim through a few scenes, which clearly isn't a good thing. 

Moving on, what did interest me and made me continue reading this were the main characters, Clark and Andie. Both are same yet opposite and their romance doesn't develop in a few pages, it takes time for them to understand each other and let their walls actually go down, which is realistic enough for me to enjoy. Speaking of love, there's no idea of instant love being highlighted and I couldn't have been more happy. In fact, Andie and Clark's first date is disastrously awkward and there's nothing more they would've wanted than to forget about it, but it's all about chances and they do land another date.

However, except for Clark and Andie, I couldn't relate to any other side characters–Toby, maybe because of the comical bet she had about emojis and her movie-inspired romantic personality, but no one else. The group of four friends worked for nothing more but a rant-and-let-rant discussion hub. This might have worked for me if the ending of this friends' group wouldn't have been too random and sudden for a mere realism effect, alas, it didn't.

The writing was good; it was a well done first-person narrative that always read like a young adult that Andie was, so full points on that. Additionally, the humor aspect of the story worked for me, specifically when Clark and Andie's father meet. Many more such scenes and occurrences pleased me and satisfied my hilarity satiety. All in all, I liked this for the rom-com that it was. Plus, the snippets after every few chapters, from Clark's (who's a best-selling author of a fantasy series) story impressed me. It was an intriguing addition and how they somehow resonated with the the current scenarios in Andie's life was admirable. While I'm touching this topic, let me mention how texts in between prose is one of my pet peeves…but this book did bring it down in the peevy list. The texts exchanged between Andie and Clark, her friends and her dad were so much fun to read and gave another contemporary YA feel to the entire story.

Overall, though the ending was a bit cheesy for my preference as a contemporary lover, I'm still going to keep picking up Morgan Matson's books for the relatable romance that she can weave. I would recommend this to all those looking for a summer read that actually depicts the progression of a romance between two young adults.
I read this book on RivetedLit but that, in no way, influences my rating and/or my opinions about it. This post may contain affiliate links; to know more click here.
F A N N A
Read more of my reviews here. Add me on Goodreads | Instagram | Twitter