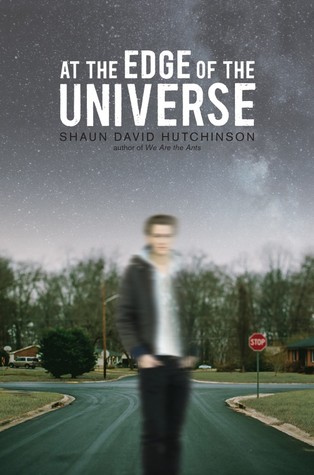 Tommy and Ozzie have been best friends since second grade, and boyfriends since eighth. They spent countless days dreaming of escaping their small town—and then Tommy vanished.

More accurately, he ceased to exist, erased from the minds and memories of everyone who knew him. Everyone except Ozzie.

Ozzie doesn't know how to navigate life without Tommy, and soon suspects that something else is going on: that the universe is shrinking.

When Ozzie is paired up with new student Calvin on a physics project, he begins to wonder if Calvin could somehow be involved. But the more time they spend together, the harder it is for him to deny the feelings developing between them, even if he still loves Tommy.

But Ozzie knows there isn't much time left to find Tommy–that once the door closes, it can't be opened again. And he's determined to keep it open as long as possible.
REVIEW
At The Edge Of The Universe is a science fiction that focuses on an young adult who's the only one feeling the universe's shrinkage while the story revolves around diverse sexualities and wrecking emotions.

I don't know if I can actually sum up everything I felt after (and while) reading this book because I dived into this one without any idea of the story and haven't read any of Shaun David Hutchinson's works before, so this one unexpectedly impressed me. 

This story has peaks everywhere, and by everywhere I mean there isn't a single place that feels like filler and doesn't intrigue me. The main idea revolves around Ozzie who's boyfriend, Tommy, went missing. Or at least he thinks so because others don't even hold the slightest clue of this Tommy—he went missing even from everybody's memories. But Ozzie remembers him clearly, still feels the emotions he has for the one person he was with from forever, and isn't giving up on finding him. Which then leads to Ozzie coming up with theories to somehow explain the absence (and possible reappearance) of Tommy. And one of these unbelievable theories was: the universe is shrinking. 

Apologies in advance for any abrupt sentence wrapping or details being left out because I'm looking for this review to be spoiler free and I don't want to give away anything that might save you from the heart and mind wreckage that this book would definitely possibly bring to you. 

While the story continues to impress me throughout, the characters don't fail to make me fall in love with them either. I would say the diverse sexualities contributed to this: Ozzie is gay, Tommy is gay and black, Lua is genderfluid, and Dustin is asexual (though it isn't clearly stated and am assuming). And the best part? There aren't specific reasons being discussed for each character's sexuality. I mean, they're just who they are and are neither overly-highlighted nor left to speak for themselves. Ozzie mentions in the start about Lua's preference to not belonging to a particular gender and from there on, Lua is automatically assigned either 'he' or 'she' pronouns according to who she feels like being that day. They're all normal which is exactly what I expect from my queer books. Speaking of normal, each and every character is flawed. Each one has their own problems that become evident even when Ozzie's journey is under the lights.

The romance between Calvin and Ozzie was another good aspect of this story. There's the whole coming-together-for-a-school-project trope but it's intertwined very well with Calvin's past and Ozzie's possible future. Their relationship develops gradually, and it's sad how Tommy keeps roaming around in Ozzie's head all this while, thereby stopping Ozzie from taking any huge leaps…until the end. Which brings me to the ending: what the hell? It was amazing because it actually made sense but it still didn't make sense because it's fiction at the end of the day and I've no idea if this is possible but I think this might be and…sorry for the rambling.

While I'm continually praising each and every facet of this story, can we take a minute to acknowledge how fascinating the whole universe-is-shrinking theory is? I'm not a huge physics enthusiast but that didn't make me any less interested because well, I'm a part of this universe and nah, I don't want it to shrink. So everytime Ozzie dwelled over this supposition, I would straighten up and read it very carefully so as to understand and somehow relate it to reality. And of course, now I think the universe is shrinking. Can you see the stars? 

During this voyage of Ozzie while the universe is shrinking, there are realistically dark issues dealt with, too, because they matter. Right from depression to self harm to rape and physical abuse, scenes and sequences are so subtly brought to light that it makes more impact than it possibly can. The book isn't all rainbows and neither is it all black clouds, but it blends both the good and bad possibilities extremely well. All this couldn't have been feasible if it wasn't said through the ingenious lyrical writing. There aren't overt descriptions or flowery prose but when the author wants to draw our attention to a specific situation or thought, he does it too easily. Then there are thousands of quotes I can pick from this book because almost every chapter ends with a bang but it's one of those subtle bangs where you realise a second later how much sense the line actually made.

Overall, if it isn't already obvious, I loved this book! I would recommend it to all those who are looking for a young adult science fiction with characters who are diversely oriented and a writing that beautifully hurts.
DISCLAIMER

I read this book on Rivetedlit but that, in no way, influences my rating and/or thoughts on it. Thank you Jenny Han and Simon & Schuster! This post may contain affiliate links; to know more click here.
Have you read this? Are you planning to?
A quick end note: any and all support toward this blog is appreciated and if you're currently willing to help out this blog, please do consider donating through my ko-fi page. [all donations through this will be used for the blog/content creation/giveaways] Though, that's not the only way you can support the blog–you can even purchase via my affiliate link in this post and that can help me earn a little through Amazon without any extra cost to you. But if you're not able to do any of these two, (I still love you!!!) you can help the content by sharing it on social media and commenting.
F A N N A
Read more of my reviews here. Add me on Goodreads | Instagram | Twitter