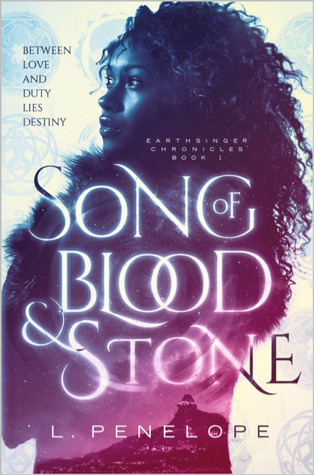 A treacherous, thrilling, epic fantasy about an outcast drawn into a war between two powerful rulers. 

Orphaned and alone, Jasminda lives in a land where cold whispers of invasion and war linger on the wind. Jasminda herself is an outcast in her homeland of Elsira, where her gift of Earthsong is feared. When ruthless soldiers seek refuge in her isolated cabin, they bring with them a captive–an injured spy who threatens to steal her heart. 

Jack's mission behind enemy lines to prove that the Mantle between Elsira and Lagamiri is about to fall nearly cost him his life, but he is saved by the healing Song of a mysterious young woman. Now he must do whatever it takes to save Elsira and it's people from the True Father and he needs Jasminda's Earthsong to do it. They escape their ruthless captors and together they embark on a perilous journey to save Elsira and to uncover the secrets of The Queen Who Sleeps. 

Thrust into a hostile society, Jasminda and Jack must rely on one another even as secrets jeopardize their bond. As an ancient evil gains power, Jasminda races to unlock a mystery that promises salvation. 

The fates of two nations hang in the balance as Jasminda and Jack must choose between love and duty to fulfill their destinies and end the war. 
Song Of Blood And Stone is a new adult fantasy, romance by L. Penelope and was published by St. Martin's Press on May 1st, 2018.
REVIEW
Song Of Blood And Stone revolves around a girl with magic powers (termed as a song) and a skin color that makes her stand out from the crowd of non-majis. The world here can be divided into two groups: one with magic powers strong enough to change wind directions or speed, called the Lagimaris and the second with no songs but powerful people nonetheless, called the Elsirans. Both the cities are separated by a magical wall that prevents a cruel leader from breaching a clause to not take over the Lagimaris.

I really liked this book for quite a few things. One, the main protagonist, Jasminda, is a strong, confident female who does emotionally break at times but stands up again. She's built to be the loneliest person because her parents and brothers are all dead, leaving her behind to suffer the abuse of people around her, pointing her out as a grol witch because of her Earthsong (magical power). Not only this, she's not financially stable and struggles to keep her house at the farm because of the unpaid tax debt. While her character arc was resonating a saddened vibe, her personality was quite balanced between a strongly opinionated but sensitive human. 

The world set up is interesting, though the world building isn't the best. Some things might get confusing and it takes time to get completely engrossed in the fictional setting. However, the myths or legends created in this world are intriguing–there's a saviour waiting to be awoken called the Queen Who Sleeps and is considered almost equal to God; sometimes Lagimaris might receive this Queen's orders in their dreams and that's how a war is fought. So, needless to say, hard work has been put into the story.

There are a few topics that aren't particularly 'dealt' with but they are given a limelight to show the harsh realism in this fictional world and I think that deserves appreciation.Like I already mentioned, there are racism induced actions against Jasminda so that's a struggle for her in itself. Though, the way her character dealt with it is different and definitely not everyone can relate to her responses so I won't say much about it.

There are refugee and interracial issues highlighted. At one point, refugees are being shot by the military unless a senior officer steps in, which shows the brutal reality of the hardened stigma surrounding refugees–they aren't the country's own so why should they be treated fairly. Similarly, Jasminda belongs to the Lagimaris but lives in the Elsira and this sets up another reason for her to be picked at. A true biracial struggle that leaves her feeling isolated.

The male protagonist, Jack, might not be my book-boyfriend material but he was admiring, no doubt. It's so difficult to write about him without spoiling anything…ugh. Anyway, he's a wounded soldier found and treated by Jasminda who soon falls in love with her. His personality is that of a gentleman and he's intelligent–uses reasoning and logic while keeping up his morals.

Each chapter has these two to three lines of collected folk tales that somehow resonate with the chapter's content. This impressed me, definitely! The writing is a first person, alternate PoV that's pretty beautiful at times and a pleasure to read.

However, the story had so many tropes! Some of them were my pet peeves so while they don't affect an overall reader's point of view, they do affect mine. For example, insta-love and the evidently chosen one trope. The romance between Jasminda and Jack was fine for me; it didn't make me cringe but it didn't make me swoon either. They had respect for each other and hot scenes but I felt like they loved each other too quickly.

The pacing was tiring at the start and it was only halfway through that I felt the most captivated. The disclosures or revelations weren't that unpredictable and sometimes just made me turn page without any hint of expressions because "yup, totally knew that was gonna happen!". 

Whatever be the case, I do recommend this to those who are looking for a magical realism fantasy with diversity and a good enough plot. 

Trigger Warnings: Attempted Rape, Mental, Emotional, and Verbal Abuse, Description of Violence, Gunshot/Death Scene, Racism, Skin-color Shaming, Refugee Shaming, Consensual Sex Scene, War Theme, Tilts toward new adult even though it's marked as young adult.
DISCLAIMER

I received a digital copy of this via Netgalley but that in no way influences my rating and/or opinions about it. Thank you L. Penelope and St. Martin's Press!
What about you guys? Did you recently read a good fantasy you would rrecommend? Or is the genre just not your favourite?
A quick end note: any and all support toward this blog is appreciated and if you're currently willing to help out this blog, please do consider donating through my ko-fi page. [all donations through this will be used for the blog/content creation/giveaways] Though, that's not the only way you can support the blog–you can even purchase this book through my affiliate link in this post and that can help me earn a little through Amazon without any extra cost to you. But if you're not able to do any of these two, (I still love you!!!) you can help the content by sharing it on social media and commenting.

F A N N A
Instagram | Tumblr | Goodreads | Twitter