You know what's guilt? Guilt is that sharp pang in your chest when you realize you had the opportunity and the book itself to read but you still slacked it month by month, and now it's impossible to read them before the new year. 
My first list post as part of the #Project14Lists is finally here! A little information if you're feeling like you've been kept in the dark: 
#Project14Lists is an idea launched by the amazing Shealea over atThatBookshelfBitch and she had recently tweeted about it. Considering my newfound love for list posts [See: TEN 2019 YA DEBUT NOVELS YOU NEED TO ADD TO YOUR TBR! | 20 NOVELS RELEASING IN 2019 THAT WILL MAKE YOU OVERUSE THE HASHTAGS FOR COVER LOVE] I didn't think twice before sending Shealea a DM and deciding to join this project.

Project 14 Lists, otherwise known as #Project14Lists, is a 2-week blogging activity that will run from December 18th to December 31st. Book bloggers are tasked to come up with creative bookish/blogging list ideas, and on each day, write a list and post it on their respective blogs.

YOU CAN READ MORE ABOUT THIS ON MY INTRODUCTION POST OR AT SHEALEA'S BLOG-BIRTHDAY POST. 
For this post, I've compiled a list of top ten books that I feel guilty about not reading in 2018 itself so will be reading as soon as 2019 starts. 
THE POPPY WAR BY R.F. KUANG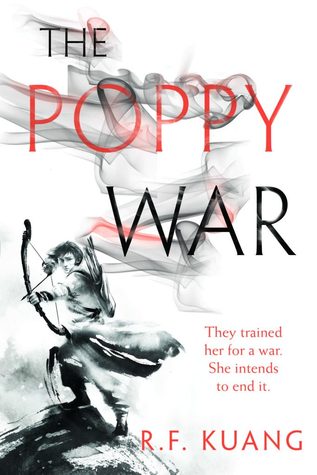 When Rin aced the Keju, the Empire-wide test to find the most talented youth to learn at the Academies, it was a shock to everyone: to the test officials, who couldn't believe a war orphan from Rooster Province could pass without cheating; to Rin's guardians, who believed they'd finally be able to marry her off and further their criminal enterprise; and to Rin herself, who realized she was finally free of the servitude and despair that had made up her daily existence. That she got into Sinegard, the most elite military school in Nikan, was even more surprising.

But surprises aren't always good.

Because being a dark-skinned peasant girl from the south is not an easy thing at Sinegard. Targeted from the outset by rival classmates for her color, poverty, and gender, Rin discovers she possesses a lethal, unearthly power—an aptitude for the nearly-mythical art of shamanism. Exploring the depths of her gift with the help of a seemingly insane teacher and psychoactive substances, Rin learns that gods long thought dead are very much alive—and that mastering control over those powers could mean more than just surviving school.

For while the Nikara Empire is at peace, the Federation of Mugen still lurks across a narrow sea. The militarily advanced Federation occupied Nikan for decades after the First Poppy War, and only barely lost the continent in the Second. And while most of the people are complacent to go about their lives, a few are aware that a Third Poppy War is just a spark away . . .

Rin's shamanic powers may be the only way to save her people. But as she finds out more about the god that has chosen her, the vengeful Phoenix, she fears that winning the war may cost her humanity . . . and that it may already be too late. 
YES, YES! I can hear you all!

Despite being approved for an ARC on NetGalley in June 2018 I still haven't read this amazing, highly-acclaimed historical fiction-fantasy. But it isn't completely my fault! I can explain myself: I had started reading this and absolutely loved it, but then I stopped right in the middle. No, the book didn't disinterest me. Instead, I won a giveaway on Twitter and I had a chance to order two books from Book Depository so I thought to myself, "If I can actually hold and read the finished copy of this amazing book, then why should I read a digital ARC?" and that's how this went to the un-read shelf. 
Unfortunately, I still haven't received the prize of that giveaway [I'm not saying it's the fault of the giveaway maker because I know how long TBD takes to ship to India; sometimes months.] Anyway, now that I look back to the past six months, I feel super guilty of not picking it up anytime despite seeing everyone enjoying it so much. It even remains un-read on my Netgalley and that's like a double loss for my ratio.
THE HATE U GIVE BY ANGIE THOMAS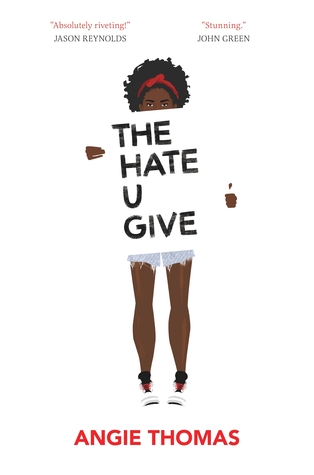 Sixteen-year-old Starr Carter moves between two worlds: the poor neighborhood where she lives and the fancy suburban prep school she attends. The uneasy balance between these worlds is shattered when Starr witnesses the fatal shooting of her childhood best friend Khalil at the hands of a police officer. Khalil was unarmed.

Soon afterward, his death is a national headline. Some are calling him a thug, maybe even a drug dealer and a gangbanger. Protesters are taking to the streets in Khalil's name. Some cops and the local drug lord try to intimidate Starr and her family. What everyone wants to know is: what really went down that night? And the only person alive who can answer that is Starr.

But what Starr does—or does not—say could upend her community. It could also endanger her life.
I can literally hear everyone scream Fanna, what's wrong with you?!

Trust me, I keep asking myself that! The Hate U Give has been on my TBR since it released in February 2017 but I never read it in 2017 because I was on a book-buying ban. Then 2018 came and with it came all the stunning new releases, and I gave into them. Plus, I had only started blogging so I was in the daze where ARCs are life (which they actually aren't) and so my mind never went to the great titles of 2017, like this one. 

Then something completely unexpected but best happened: Jes [JesReadsBooks] sent me a copy of this as part of granting a #BookishWish that was trending on Twitter during August 2018. I remember receiving the book in August itself and gushing about it to my friends and family. And then I did something that shouldn't be done: I kept it at the bottom of my TBR. So it went kind of (absolutely undeserved) unnoticed for the next two months. I finally did pick it up at the end of October but I don't know why I just couldn't continue past the actual gunshot scene. I think I need to be in a mood to read this book because one thing I can say for sure–it's going to be emotionally heavy. And a lot of book bloggers have mentioned something along those lines in their reviews about THUG, too. 

Hopefully, I'll read and rave about this one in 2019!
THE POET X BY ELIZABETH ACEVEDO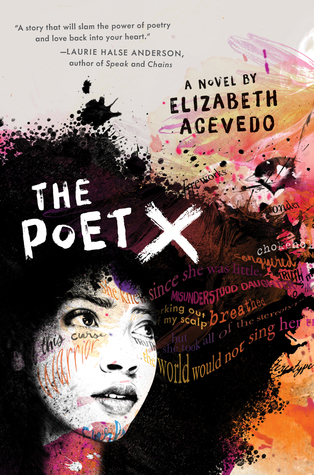 A young girl in Harlem discovers slam poetry as a way to understand her mother's religion and her own relationship to the world. Debut novel of renowned slam poet Elizabeth Acevedo.

Xiomara Batista feels unheard and unable to hide in her Harlem neighborhood. Ever since her body grew into curves, she has learned to let her fists and her fierceness do the talking.

But Xiomara has plenty she wants to say, and she pours all her frustration and passion onto the pages of a leather notebook, reciting the words to herself like prayers—especially after she catches feelings for a boy in her bio class named Aman, who her family can never know about. With Mami's determination to force her daughter to obey the laws of the church, Xiomara understands that her thoughts are best kept to herself.

So when she is invited to join her school's slam poetry club, she doesn't know how she could ever attend without her mami finding out, much less speak her words out loud. But still, she can't stop thinking about performing her poems.

Because in the face of a world that may not want to hear her, Xiomara refuses to be silent.
The Poet X is a book that I came across via some of the best book bloggers out there (and who I love to bits!) like Destiny @HowlingLibrary | Shealea @ThatBookshelfBitch | Marta @TheCursedBooks | Lindsi @DoYouDogEar | Jennifer @BoundToWriting 
Needless to say, I instantly added this book to my TBR and consequently, to my #BookishWish list which I later posted on Twitter. Simant [FlippingThruThePages] is one of the sweetest and most helpful souls in this blogging community so when I got a message from her saying she would love to send me a copy of this, I wasn't surprised by her kindness but I was SO GRATEFUL! 
Despite receiving this in September, I haven't picked it up yet because again, I think it's going to be pretty impacting and I want to be in the right mindset, which (unfortunately) my university's continuous mid-terms and end-sem exams have not let me acquire. 
SAVE THE DATE BY MORGAN MATSON
Charlie Grant's older sister is getting married this weekend at their family home, and Charlie can't wait for the first time in years, all four of her older siblings will be under one roof. Charlie is desperate for one last perfect weekend, before the house is sold and everything changes. The house will be filled with jokes and games and laughs again. Making decisions about things like what college to attend and reuniting with longstanding crush Jesse Foster all that can wait. She wants to focus on making the weekend perfect.

The only problem? The weekend is shaping up to be an absolute disaster. There's the unexpected dog with a penchant for howling, house alarm that won't stop going off, and a papergirl with a grudge.

There are the relatives who aren't speaking, the (awful) girl her favorite brother brought home unannounced, and a missing tuxedo. Not to mention the neighbor who seems to be bent on sabotage and a storm that is bent on drenching everything. The justice of the peace is missing. The band will only play covers. The guests are all crazy. And the wedding planner's nephew is unexpectedly, distractedly cute.

Over the course of three ridiculously chaotic days, Charlie will learn more than she ever expected about the family she thought she knew by heart. And she'll realize that sometimes, trying to keep everything like it was in the past means missing out on the future.
I read my first ever Morgan Matson book last year–The Unexpected Everything–and really liked it so when A [AvidReaderDiary] was granting some #BookishWish by giving away electronic copies of Save The Date, I couldn't stop myself.  In fact, I was so excited I even proposed a buddy read to this lovely person and she was sweet enough to say yes.
It was meant to happen in October. Spoiler: it never happened. I'm so embarrassed because I was drowning in the university commitments and that was the time when I actually took a hiatus from blogging and reading and just about everything. 
Save The Date looks like a great, sweet summer contemporary and I think I'll book it for Summer 2019! 
HEART OF MIST BY HELEN SCHEUERER
In a realm where toxic mist sweeps the lands and magic is forbidden, all Bleak wants is a cure for her power.

Still grieving the death of her guardian and dangerously self-medicating with alcohol, Bleak is snatched from her home by the Commander of the King's Army, and summoned to the capital.

But the king isn't the only one interested in Bleak's powers.

The leader of an infamous society of warriors, the Valia Kindred, lays claim to her as well, and Bleak finds herself in the middle of a much bigger battle than she anticipated.

Heart of Mist is the gripping first book in The Oremere Chronicles, a fantasy series of epic proportions.
Heart of Mist is a highly recommended book by Shealea [ThatBookshelfBitch] that has been on my TBR since I read her review of it. Luckily, she set up a blog tour for the sequel to this book–Reign of Mist–and I was a part of it. Consequently, I received both books in The Oremere Chronicles and was extremely excited to read and review these. 
However, I was suddenly hit by a lot of commitments especially since I had only shifted to India and joined a university here, and I had to go on the unannounced hiatus of almost three months. Unfortunately, I couldn't be a part of that blog tour and of course, didn't pick up either of the books. This was probably the most guilty recounting in this post!
But that's going to change soon because I'm thinking of picking up this young adult fantasy asap in 2019!
And that's it! 

Have you ever wanted to read something but couldn't pick it up due to unfortunate reasons?
GIVEAWAY


 I'm thankful for all the love and support you guys show toward me and my content and as a little gratitude showcase, I've set up a giveaway over at my Instagram where three (or more!!!) winners can win a book from Book Depository! So if you're also anticipating one of these titles or any other (or have been wanting to read one since forever) you can head over to my Instagram and enter the giveaway!
A quick endnote: any and all support toward this blog is appreciated and if you're currently willing to help out this blog, please do consider donating through my ko-fi page. [all donations through this will be used for the blog/content creation/giveaways] Though, that's not the only way you can support the blog–you can even purchase/pre-order any of these releases via my affiliate links that are spread throughout this post and that can help me earn a little through Amazon without any extra cost to you. But if you're not able to do any of these two, (I still love you!!!) you can help the content by sharing it on social media and commenting.
F A N N A
Instagram | Tumblr | Goodreads | Twitter