A LIST FEATURING MY SIXTEEN MOST ANTICIPATED 2019 RELEASES TO MAKE YOUR TBR MORE SEXUALLY DIVERSE
2019 is going to be a great year in terms of more representation and this is exactly what the readers are excited about too! So if you're on the search for adding some upcoming releases that have a LGBTQIA representation, help yourself and increase your ever growing TBR.
This is my third list post as part of the #Project14Lists! A little information if you're feeling like you've been kept in the dark: 
#Project14Lists is an idea launched by the amazing Shealea over at ThatBookshelfBitch and she had recently tweeted about it. Considering my newfound love for list posts [See: TEN 2019 YA DEBUT NOVELS YOU NEED TO ADD TO YOUR TBR!| 20 NOVELS RELEASING IN 2019 THAT WILL MAKE YOU OVERUSE THE HASHTAGS FOR COVER LOVE] I didn't think twice before sending Shealea a DM and deciding to join this project.

Project 14 Lists, otherwise known as #Project14Lists, is a 2-week blogging activity that will run from December 18th to December 31st. Book bloggers are tasked to come up with creative bookish/blogging list ideas, and on each day, write a list and post it on their respective blogs.

YOU CAN READ MORE ABOUT THIS ON MY INTRODUCTION POST OR AT SHEALEA'S BLOG-BIRTHDAY POST. 
RELEASING ON 29 JANUARY 2019
THE LOVE & LIES OF RUKHSANA ALI BY SABINA KHAN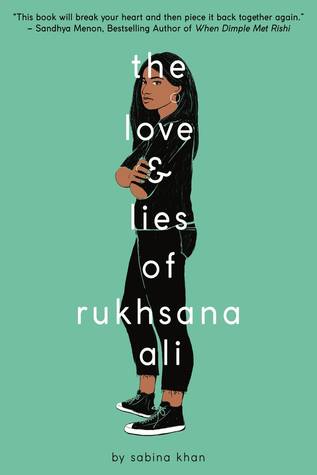 Seventeen-year-old Rukhsana Ali tries her hardest to live up to her conservative Muslim parents' expectations, but lately she's finding that harder and harder to do. She rolls her eyes instead of screaming when they blatantly favor her brother and she dresses conservatively at home, saving her crop tops and makeup for parties her parents don't know about. Luckily, only a few more months stand between her carefully monitored life in Seattle and her new life at Caltech, where she can pursue her dream of becoming an engineer.

But when her parents catch her kissing her girlfriend Ariana, all of Rukhsana's plans fall apart. Her parents are devastated; being gay may as well be a death sentence in the Bengali community. They immediately whisk Rukhsana off to Bangladesh, where she is thrown headfirst into a world of arranged marriages and tradition. Only through reading her grandmother's old diary is Rukhsana able to gain some much needed perspective.

Rukhsana realizes she must find the courage to fight for her love, but can she do so without losing everyone and everything in her life?
|| F/F romance
|| Female POC protagonist
|| Bangladesh (South Asian) setting; Bengali character
RELEASING 2 APRIL 2019
I WISH YOU ALL THE BEST BY MASON DEAVER
When Ben De Backer comes out to their parents as nonbinary, they're thrown out of their house and forced to move in with their estranged older sister, Hannah, and her husband, Thomas, whom Ben has never even met. Struggling with an anxiety disorder compounded by their parents' rejection, they come out only to Hannah, Thomas, and their therapist and try to keep a low profile in a new school.

But Ben's attempts to survive the last half of senior year unnoticed are thwarted when Nathan Allan, a funny and charismatic student, decides to take Ben under his wing. As Ben and Nathan's friendship grows, their feelings for each other begin to change, and what started as a disastrous turn of events looks like it might just be a chance to start a happier new life.

At turns heartbreaking and joyous, I Wish You All the Best is both a celebration of life, friendship, and love, and a shining example of hope in the face of adversity.
|| Non-binary protagonist
|| Anxiety & depression rep
|| Queer romance
RELEASING ON 28 MAY 2019
THESE WITCHES DON'T BURN BY ISABEL STERLING
Hannah's a witch, but not the kind you're thinking of. She's the real deal, an Elemental with the power to control fire, earth, water, and air. But even though she lives in Salem, Massachusetts, her magic is a secret she has to keep to herself. If she's ever caught using it in front of a Reg (read: non-witch), she could lose it. For good. So, Hannah spends most of her time avoiding her ex-girlfriend (and fellow Elemental Witch) Veronica, hanging out with her best friend, and working at the Fly by Night Cauldron selling candles and crystals to tourists, goths, and local Wiccans.

But dealing with her ex is the least of Hannah's concerns when a terrifying blood ritual interrupts the end-of-school-year bonfire. Evidence of dark magic begins to appear all over Salem, and Hannah's sure it's the work of a deadly Blood Witch. The issue is, her coven is less than convinced, forcing Hannah to team up with the last person she wants to see: Veronica.

While the pair attempt to smoke out the Blood Witch at a house party, Hannah meets Morgan, a cute new ballerina in town. But trying to date amid a supernatural crisis is easier said than done, and Hannah will have to test the limits of her power if she's going to save her coven and get the girl, especially when the attacks on Salem's witches become deadlier by the day.

Isabel Sterling's delightful, suspenseful debut is equal parts sweet romance and thrilling mystery. With everything she loves on the line, Hannah must confront this murderous villain before her coven–and any chance she has with the new girl–is destroyed.
|| F/F Romance
|| Coming-of-age and coming-out
|| Young adult witches
THE TITLE MIGHT BE REMINDING YOU OF THE WITCH DOESN'T BURN IN THIS ONE BY AMANDA LOVELACE
RELEASING ON 26 FEBRUARY 2019
WE SET THE DARK ON FIRE BY TEHLOR KAY MEJIA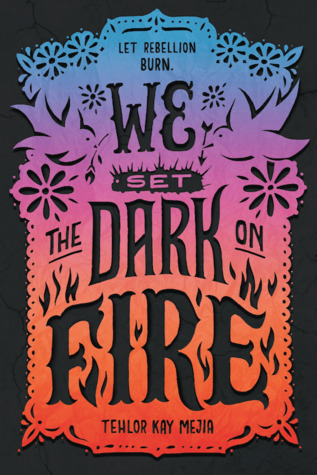 At the Medio School for Girls, distinguished young women are trained for one of two roles in their polarized society. Depending on her specialization, a graduate will one day run a husband's household or raise his children, but both are promised a life of comfort and luxury, far from the frequent political uprisings of the lower class. Daniela Vargas is the school's top student, but her bright future depends upon no one discovering her darkest secret—that her pedigree is a lie. Her parents sacrificed everything to obtain forged identification papers so Dani could rise above her station. Now that her marriage to an important politico's son is fast approaching, she must keep the truth hidden or be sent back to the fringes of society, where famine and poverty rule supreme.

On her graduation night, Dani seems to be in the clear, despite the surprises that unfold. But nothing prepares her for all the difficult choices she must make, especially when she is asked to spy for a resistance group desperately fighting to bring equality to Medio. Will Dani cling to the privilege her parents fought to win for her, or to give up everything she's strived for in pursuit of a free Medio—and a chance at a forbidden love?
|| F/F romance
|| Forbidden love
|| Young-adult Dystopia
THE COVER OF WE SET THE DARK ON FIRE IS SO GORGEOUS, I'VE MENTIONED THIS BOOK IN THIS POST: TEN 2019 NOVELS THAT WILL MAKE YOU OVERUSE THE HASHTAGS FOR COVER LOVE
RELEASING ON 5 MAY 2019
ONCE & FUTURE BY AMY ROSE CAPETTA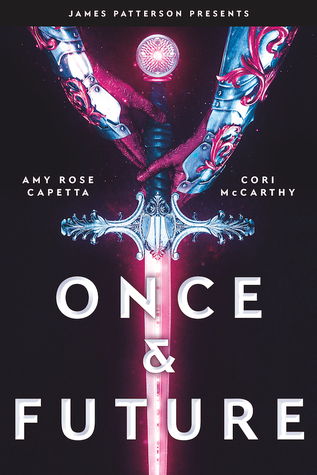 I've been chased my whole life. As an illegal immigrant in the territory controlled by the tyrannical Mercer corporation, I've always had to hide who I am. Until I found Excalibur.

Now I'm done hiding.

My name is Ari Helix. I have a magic sword, a cranky wizard, and a revolution to start.

When Ari crash-lands on Old Earth and pulls a magic sword from its ancient resting place, she is revealed to be the newest reincarnation of King Arthur. Then she meets Merlin, who has aged backward over the centuries into a teenager, and together they must break the curse that keeps Arthur coming back. Their quest? Defeat the cruel, oppressive government and bring peace and equality to all humankind.

No pressure.
|| Pansexual and gay MCs
|| Gender-queer characters
|| Gender-bent retelling of King Arthur

RELEASING ON 11 JUNE, 2019
TELL ME HOW YOU REALLY FEEL BY AMINAH MAE SAFI
Sana Khan is a cheerleader and a straight A student. She's the classic (somewhat obnoxious) overachiever determined to win.

Rachel Recht is a wannabe director who's obsesssed with movies and ready to make her own masterpiece. As she's casting her senior film project, she knows she's found the perfect lead – Sana.

There's only one problem. Rachel hates Sana. Rachel was the first girl Sana ever asked out, but Rachel thought it was a cruel prank and has detested Sana ever since.
|| F/F romance
|| POC protagonist
|| YA rom-com
YOU MIGHT BE INTERESTED IN THESE BOOKS WITH POC PROTAGONISTS:
FROM TWINKLE WITH LOVE BY SANDHYA MENON
TO ALL THE BOYS I'VE LOVED BEFORE BY JENNY HAN
LET'S TALK ABOUT LOVE BY CLAIRE KANN

RELEASING N 19 FEBRUARY 2019
THE PAST AND OTHER THINGS THAT SHOULD STAY BURIED BY SHAUN DAVID HUTCHINSON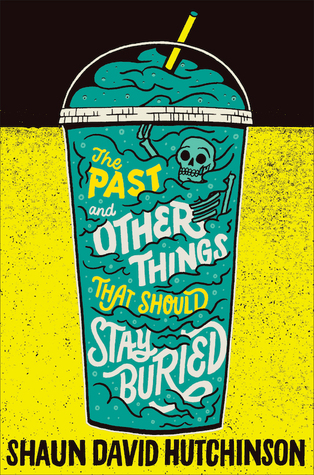 A good friend will bury your body, a best friend will dig you back up.

Dino doesn't mind spending time with the dead. His parents own a funeral home, and death is literally the family business. He's just not used to them talking back. Until Dino's ex-best friend July dies suddenly—and then comes back to life. Except not exactly. Somehow July is not quite alive, and not quite dead.

As Dino and July attempt to figure out what's happening, they must also confront why and how their friendship ended so badly, and what they have left to understand about themselves, each other, and all those grand mysteries of life. 
|| Queer characters
|| Friendship focussed
|| Zombies and such.
YOU MIGHT BE INTERESTED IN AT THE EDGE OF THE UNIVERSE BY SHAUN DAVID HUTCHISNON
RELEASING ON 19 MARCH 2019
THE WEIGHT OF THE STARS BY K. ANCRUM
Ryann Bird dreams of traveling across the stars. But a career in space isn't an option for a girl who lives in a trailer park on the wrong side of town. So Ryann becomes her circumstances and settles for acting out and skipping school to hang out with her delinquent friends.

One day she meets Alexandria: a furious loner who spurns Ryann's offer of friendship. After a horrific accident leaves Alexandria with a broken arm, the two misfits are brought together despite themselves—and Ryann learns her secret: Alexandria's mother is an astronaut who volunteered for a one-way trip to the edge of the solar system.

Every night without fail, Alexandria waits to catch radio signals from her mother. And its up to Ryann to lift her onto the roof day after day until the silence between them grows into friendship, and eventually something more . . .
|| F/F romance
|| Slow-burn
|| YA science fiction
IF YOU'RE LOOKING FOR BOOKS WITH SLOW BURN ROMANCE, YOU MIGHT LIKE KISS OF THE ROYAL BY LINDSEY DUGA
RELEASING ON 15 JANUARY 2019
OUR YEAR OF MAYBE BY RACHEL LYNN SOLOMON
Aspiring choreographer Sophie Orenstein would do anything for Peter Rosenthal-Porter, who's been on the kidney transplant list as long as she's known him. Peter, a gifted pianist, is everything to Sophie: best friend, musical collaborator, secret crush. When she learns she's a match, donating a kidney is an easy, obvious choice. She can't help wondering if after the transplant, he'll love her back the way she's always wanted.

But Peter's life post-transplant isn't what either of them expected. Though he once had feelings for Sophie too, he's now drawn to Chase, the guitarist in a band that happens to be looking for a keyboardist. And while neglected parts of Sophie's world are calling to her—dance opportunities, new friends, a sister and niece she barely knows—she longs for a now-distant Peter more than ever, growing increasingly bitter he doesn't seem to feel the same connection.

Peter fears he'll forever be indebted to her. Sophie isn't sure who she is without him. Then one blurry, heartbreaking night twists their relationship into something neither of them recognizes, leading them to question their past, their future, and whether their friendship is even worth fighting for.
|| Bisexual protagonist
|| Unrequited love of best friends
|| Jewish MC

RELEASING ON 30 APRIL, 2019
HOT DOG GIRL BY JENNIFER DUGAN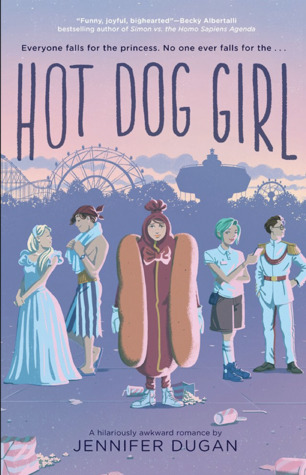 Elouise (Lou) Parker is determined to have the absolute best, most impossibly epic summer of her life. There are just a few things standing in her way:

* She's landed a job at Magic Castle Playland . . . as a giant dancing hot dog.
* Her crush, the dreamy Diving Pirate Nick, already has a girlfriend, who is literally the Princess of the park. But Lou's never liked anyone, guy or otherwise, this much before, and now she wants a chance at her own happily ever after.
* Her best friend, Seeley, the carousel operator, who's always been up for anything, suddenly isn't when it comes to Lou's quest to set her up with the perfect girl or Lou's scheme to get close to Nick.
* And it turns out that this will be their last summer at Magic Castle Playland–ever–unless she can find a way to stop it from closing. 
|| F/F rom-com
|| Dancing hot dog in carousel
|| Adorable
RELEASING 30 JULY 2019
SHATTER THE SKY BY REBECCA KIM WELLS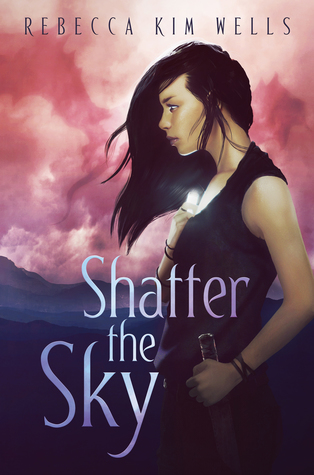 Raised among the ruins of a conquered mountain nation, Maren dreams only of sharing a quiet life with her girlfriend Kaia—until the day Kaia is abducted by the Aurati, prophetic agents of the emperor, and forced to join their ranks. Desperate to save her, Maren hatches a plan to steal one of the emperor's coveted dragons and storm the Aurati stronghold.

If Maren is to have any hope of succeeding, she must become an apprentice to the Aromatory—the emperor's mysterious dragon trainer. But Maren is unprepared for the dangerous secrets she uncovers: rumors of a lost prince, a brewing rebellion, and a prophecy that threatens to shatter the empire itself. Not to mention the strange dreams she's been having about a beast deep underground…

With time running out, can Maren survive long enough to rescue Kaia from impending death? Or could it be that Maren is destined for something greater than she could have ever imagined?
|| F/F Romance
|| Dragons
|| YA Fantasy
RELEASING ON 19 MARCH 2019
SMALL TOWN HEARTS BY LILLIE VALE
Rule #1 – Never fall for a summer boy.

Fresh out of high school, Babe Vogel should be thrilled to have the whole summer at her fingertips. She loves living in her lighthouse home in the sleepy Maine beach town of Oar's Rest and being a barista at the Busy Bean, but she's totally freaking out about how her life will change when her two best friends go to college in the fall. And when a reckless kiss causes all three of them to break up, she may lose them a lot sooner. On top of that, her ex-girlfriend is back in town, bringing with her a slew of memories, both good and bad.

And then there's Levi Keller, the cute artist who's spending all his free time at the coffee shop where she works. Levi's from out of town, and even though Babe knows better than to fall for a tourist who will leave when summer ends, she can't stop herself from wanting to know him. Can Babe keep her distance, or will she break the one rule she's always had – to never fall for a summer boy?
|| Summer vibes
|| Bisexual protagonist
|| Pies and coffee
RELEASING ON 11 JUNE 2019
THE GRIEF KEEPER BY ALEXANDRIA VILLASANTE
Seventeen-year-old Marisol has always dreamed of being American, learning what Americans and the US are like from television and Mrs. Rosen, an elderly expat who had employed Marisol's mother as a maid. When she pictured an American life for herself, she dreamed of a life like Aimee and Amber's, the title characters of her favorite American TV show. She never pictured fleeing her home in El Salvador under threat of death and stealing across the US border as "an illegal", but after her brother is murdered and her younger sister, Gabi's, life is also placed in equal jeopardy, she has no choice, especially because she knows everything is her fault. If she had never fallen for the charms of a beautiful girl named Liliana, Pablo might still be alive, her mother wouldn't be in hiding and she and Gabi wouldn't have been caught crossing the border.

But they have been caught and their asylum request will most certainly be denied. With truly no options remaining, Marisol jumps at an unusual opportunity to stay in the United States. She's asked to become a grief keeper, taking the grief of another into her own body to save a life. It's a risky, experimental study, but if it means Marisol can keep her sister safe, she will risk anything. She just never imagined one of the risks would be falling in love, a love that may even be powerful enough to finally help her face her own crushing grief.

The Grief Keeper is a tender tale that explores the heartbreak and consequences of when both love and human beings are branded illegal.
|| F/F Romance
|| Immigration criticism
|| PTSD experiment
RELEASING ON 5 MARCH 2019
YOU ASKED FOR PERFECT BY LAURA SILVERMAN
Senior Ariel Stone is the perfect college applicant: first chair violin, dedicated community volunteer, and expected valedictorian. He works hard – really hard – to make his life look effortless. A failed Calculus quiz is not part of that plan. Not when he's number one. Not when his peers can smell weakness like a freshman's body spray.

Figuring a few all-nighters will preserve his class rank, Ariel throws himself into studying. His friends will understand if he skips a few plans, and he can sleep when he graduates. Except Ariel's grade continues to slide. Reluctantly, he gets a tutor. Amir and Ariel have never gotten along, but Amir excels in Calculus, and Ariel is out of options.

Ariel may not like Calc, but he might like Amir. Except adding a new relationship to his long list of commitments may just push him past his limit. 
|| Gay protagonist
|| Academics develop the relationship
|| Jewish rep
RELEASING ON 16 APRIL 2019
EARTH TO CHARLIE BY JUSTIN OLSON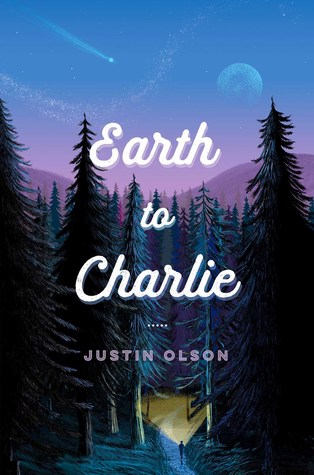 A high school outcast spends his life hoping to be abducted by aliens in this funny, quirky novel about finding your footing in a world that sometimes feels like Mars.

Convinced his mother has been abducted by aliens, Charlie Dickens spends his nights with an eye out for UFOs, hoping to join her. After all, she said the aliens would come back for him. Charlie will admit that he doesn't have many reasons to stick around; he doesn't get along well with his father, he's constantly bullied at school and at work, and the only friend he has is his 600-pound neighbor Geoffrey, and Geoffrey's three-legged dog, Tickles.

Then Charlie meets popular, easy-going Seth, who shows him what real friendship is all about. For once, he finds himself looking around at the life he's built, rather than looking up. But sooner than he expected, Charlie has to make a decision: should he stay or should he go? 
|| Gay protagonist
|| Aliens
|| Charlie Dickens is the name
EARTH TO CHARLIE MADE IT TO MY LIST OF TEN 2019 DEBUT NOVELS YOU NEED TO ADD TO YOUR TBR!
RELEASING ON 2 APRIL 2019
A PLACE FOR WOLVES BY KOSOKO JACKSON
James Mills isn't sure he can forgive his parents for dragging him away from his life, not to mention his best friend and sister, Anna. He's never felt so alone.

Enter Tomas. Falling for Tomas is unexpected, but sometimes the best things in life are.

Then their world splits apart. A war that has been brewing finally bursts forward, filled with violence, pain, and cruelty. James and Tomas can only rely on each other as they decide how far they are willing to go―and who they are willing to become―in order to make it back to their families.
|| M/M Romance
|| Black protagonist
|| YA Historical thriller
AND THAT'S IT!

WHAT ARE SOME OF YOUR ANTICIPATED LGBTQ+ BOOKS OF 2019?
GIVEAWAY

I'm thankful for all the love and support you guys show toward me and my content and as a little gratitude showcase, I've set up a giveaway over at my Instagram where three (or more!!!) winners can win a book from Book Depository! So if you're looking to get one of these titles or any other (or have been wanting to read one since forever) you can head over to my Instagram and enter the giveaway!
A quick end note: any and all support toward this blog is appreciated and if you're currently willing to help out this blog, please do consider donating through my ko-fi page. [all donations through this will be used for the blog/content creation/giveaways] Though, that's not the only way you can support the blog–you can even purchase/pre-order any of these releases via my affiliate links that are spread throughout this post and that can help me earn a little through Amazon without any extra cost to you. But if you're not able to do any of these two, (I still love you!!!) you can help the content by sharing it on social media and commenting.
F A N N A
Instagram | Tumblr | Goodreads | Twitter